At Endodontic Specialists, the technology we use helps us provide patients with endodontic dental care, including X-rays and Cone Beam Cat Scan.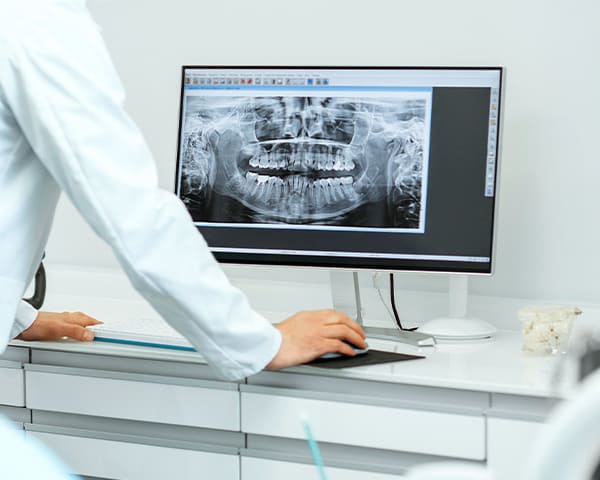 Technologies at Our Dental Clinic
At Endodontic Specialists, we use technology to confirm diagnoses, plan treatments and make your endodontic appointments more efficient. We can display scans and digital X-rays on the monitors in our treatment rooms, then show you issues or injuries in your mouth and explain your procedure. 
With the assistance of dental technology, our team is in a position to provide care during your visits. We are able to make complete diagnoses allowing for efficient treatment options. 
With our technological devices, such as digital and panoramic X-rays, 3-D imaging, microscopes, ultrasonic Piezo electric handpieces and digital intra-oral cameras, we can proactively address dental health while offering comfortable appointments.  
Our goal is to provide patients with efficient endodontic care and keep our patients fully informed about their treatment and how it will help their oral health. Dental technology helps us do that.
X-Rays
Digital
Digital X-rays replace traditional photographic x-ray film with digital sensors. They capture detailed computer images of the teeth and gums, in addition to other oral structures and conditions. This allows your endodontist to examine parts of your mouth that are not visible to the naked eye. 
Panoramic
With panoramic x-rays, your endodontist can create a single image of your entire mouth. This image is a flat representation of the teeth, temporomandibular joints (TMJ), upper and lower jaws, nasal and sinus structures. We often use panoramic x-rays to help plan endodontic treatments. 
Microscopes
The use of specialized operating microscopes means that your doctor is able to get a detailed look at the work they are doing during all phases of your endodontic treatment. The additional magnification and illumination allow them to work with great precision and see small details such as calcified canals and fractures.
Your endodontist is able to more accurately diagnose and treat your condition, using a dental operating microscope which allows them to look as closely as possible.
Further, some microscopes may be equipped with high-resolution video and digital photography allowing the doctor to enhance patient communication and document treatment.
3-D (CBCT) Imaging
3-D imaging is a special type of X-ray machine that produces 3D images of soft tissues, dental structures, bone and nerve paths in the craniofacial region, all in a single scan. 
With 3-D imaging, we can obtain a more accurate prognosis for your teeth and precisely plan treatments. With this non-invasive tool, we can see the tooth in three dimensions and more easily detect and evaluate root fractures and traumas, root resorption, apical periodontitis (a lesion surrounding the tooth root), and other conditions. 
3-D imaging is more comfortable for patients with traumatic dental injuries, as the multi-dimensional image eliminates the need for several intraoral radiographs captured at different angles. 
Ultrasonic Piezo Electric Handpieces
Ultrasonic Piezo Electric Handpieces are designed to be used with specialized tips allowing your endodontist to provide conventional root canal treatment and endodontic surgery with precise control that may not be able to be done with traditional dental drills.
Digital Intra-Oral Cameras
An intra-oral camera combines video technologies with dental care. Both you and your endodontist can see detailed images of your teeth and mouth in real time. With an intraoral camera, you and your endodontist are able to better understand what is happening in your mouth and review the status of your oral health.